Professional Training Level 1 (PTL1) - 1st Trimester
Trimester 1 of the Analyst training, with Jakub Stritezsky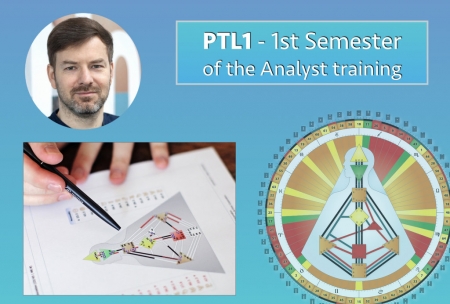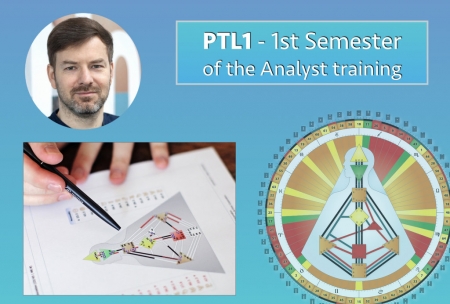 October - December, 2018 (11 classes in a trimester)
PTL1 course provides a comprehensive step-by-step training process designed to build your analyst skills and confidence in doing a Human Design Foundation Reading. This deep dive into the Bodygraph's mechanics also facilitates an intense shift in student's own process of deconditioning.
OPEN HOUSE - Course introduction and presentation
You can watch the recording of the presentation to find out more about the course, its content, structure, resources, requirements, the teacher and more. Watch the recording on YouTube.
Topics covered in the PTL1 course:
- Learning the energetic priorities & structure of the Foundation Reading
- Learning and practicing keynoting – the art of stringing individual elements of a chart together to do a reading
- Learning the gates and their lines, starting with the lines in your own chart (with tips on how to read the Rave I'Ching)
- Practicing a powerful keynoting technique called Proactive Overview (aka the Super Hero Profile)
- Recognizing the True-self and Not-self potential in a chart and describing it in an empowering way
- Offering energetic solutions to the dilemmas contained within a chart
- Integrating the whole design with a Profile
- And combining your analyst skills with people skills to build a rapport with a client
PTL1 is a three trimester program consisting of total 33 classes, 11 in each trimester. It is the core of the professional analyst training. It includes presentations by the teacher, demonstrations and practice of key skills in class, as well study groups and homework assignments. Jakub will be teaching 2nd and 3rd trimester in 2018.
The PTL1 training is a combination of developing presentation skills, verbal clarity and fluid communication skills in reading situations. We focus on building a well-organized reading structure and the ability to present an understanding of personal transformation through the Human Design experiment in living.
You will learn an ingenious and simple reading protocol that provides a step-by-step structure to analyze and read a chart, based on its energetic priorities. This protocol was designed by a master practitioner and teacher, Genoa Bliven, exclusively for Human Design America. It will support you in presenting a truly empowering and comprehensible reading to your clients - in your own words and based upon your own authentic experience.
First trimester: learning to present definition through accurate description of chart elements, and mapping the chart as client sees it using a clear reading structure. You will be investigating the lines in your own chart and charts of your loved ones. In this way, you will begin to discover a synchronistic cooperation of lines in the design that tells a story of your life. Ra called this the genetic continuity.
Second trimester: deals with the openness, its potentials and acquired dilemmas, while providing solutions through the first three views.
Third trimester: synthesis of the whole reading and ground it through integration with the profile. Our alignment with the profile is the whole point of following the Strategy and Authority.
Practicing and demonstrating your competence is an integral part of this course. By the end of third trimester, you will learn to deliver a complete, well-organized, and finely articulate reading in 30 minutes. Class instruction provides all of the necessary elements to do an efficient and clear reading in the simplest and most direct ways. To develop presentation mastery, students combine exercises to create cohesive, powerful and well-structured readings.
---
STUDENT'S FEEDBACK (more feedback here )
Hi Jakub, 
I am having a great time de-conditioning from the program. I really had no idea while starting HD that this was actually going to unfold, although I did trust my Sacral it would. I just wanted to say thank-you for your classes, they are all very detailed and detail is my thing. I have been considering who I would want as a teacher for the PTL's and I pick you. I find you informative, straight up, funny, I know you prepare and how much time you put in. I learn a lot when you teach so it is a good mix. So I am just saying hi and thank-you for LYD, ABC and RC classes. You are awesome Jakub, thank you so much, really.
Lisa Fraser
---
CLASS TIME & CLASSROOM
Mondays at 9 am PST / 12 pm EST / 4 pm GMT / 6 pm European.
Classes take place in the interactive on-line classroom platform ZOOM.
ABOUT THE TEACHER
Jakub is an experienced Human Design professional and teacher. For the past five years, he has been leading live Human Design courses & workshops and has guided 2 groups of students through the entire PTL curriculum already. He has also been organizing live workshops with Genoa Bliven and assisted him on all levels of the Human Design general and professional training. You can read more about Jakub here.
YOUR INVESTMENT
Early Bird price: $ 1.050
Regullar price: $1.150
Based on the individual arrangement, it is possible to pay in several monthly instalments.
Auditing fee: If you have already taken PTL1 before, you are most welcome to participate. Your investment is $397.

If you have any questions or need a special payment arrangements, please contact Jakub at This email address is being protected from spambots. You need JavaScript enabled to view it..
---
Prerequisites: Living Your Design, Rave ABC and Rave Cartography