Lynda Bunnell
Type: Manifesting Gen. Profile: 4/1 Location: Carlsbad, California Phone: NA Email: This email address is being protected from spambots. You need JavaScript enabled to view it. Website: www.ihdschool.com Overview Reading: NA Foundation Reading: $200 Classes Offered: See Website

Lynda's Story: Lynda Bunnell is the Director of the International Human Design School. Working closely with Ra Uru Hu since 1999, she was one of the first to begin teaching the public about Human Design and training Human Design professional Analysts and Teachers worldwide, including the first class of analysts under the new educational program re-structured by Ra in 2003. In 2005, she and Ra were among the first to teach Human Design on-line creating a virtual space where students from all over the world could meet and study together. In 2006 at his request, she re-introduced the Living Your Design Guide training program. Lynda has pioneered many of the training methods and modalities used in the on-line training programs today, and is the author of the Student and Teacher Editions of the Living Your Design books and co-author with Ra Uru Hu of the Definitive Book of Human Design, The Science of Differentiation.
Ra asked her to become the Dean of the International Human Design School in 2006, and in June of 2010 turned the school over to her completely, entrusting her with his educational programs as well as maintaining the global standards for education within The Human Design System. Lynda is a fervent pioneer in moving Human Design out into the world, and works full time to support and expand the community of students and professionals throughout the world, dedicating herself to preserving The Human Design System as taught by Ra.


"For the 12 years that I worked closely with Ra, I had the profound good fortune to be in effect his private student as we corresponded almost daily about the details of The Human Design System knowledge, and his vision for it. He taught me how important it is to maintain the authenticity of the knowledge he was given, and he confided to me his dreams, wishes, and overall vision for The Human Design System. In the process, he transformed my life and the way I view the world around me. And he instilled in me the tools I need to continue to bring this knowledge to all who can use it, and for this I am eternally grateful."


"I love teaching and working with people and being a witness to their transformation. This is one of the most important steps for people and I am humbled and grateful that I get to be involved in this work. It is very important to me that the knowledge be communicated clearly and correctly. Each time I teach Human Design I am in awe of its magic and the mutation it brings to the lives it touches. I look forward to the next experience and meeting your uniqueness."


Lynda's background includes thirty plus years as a successful businesswoman, and a passion for spiritual and metaphysical studies. She was raised and still resides in Southern California, and is the mother of two and grandmother of four.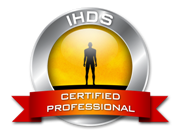 Professional Certifications: Foundation Analyst, Family Analyst, DreamRave Analyst, Living Design Guide, Senior Teacher, Rave Psychologist, BG5 Consultant